ZOLL AED Plus® Automated External Defibrillator (AED)
The First and Only Full Rescue AED That Supports Both CPR and Defibrillation
For infrequent rescuers, the AED Plus supports both CPR and defibrillation. The unique graphical user interface – pictures combined with text displays and voice prompts – helps the rescuer perform every important life-saving action every step of the way.
AED Plus features Real CPR Help®, a tool to help the rescuer achieve the correct rate and depth of chest compressions during CPR through visual and voice prompts. Feedback such as "PUSH HARDER", "GOOD COMPRESSIONS" and an adaptive metronome to guide compression rate to help accomplish quality compressions.
The AED Plus offers:
Support for the full Chain of Survival with easy to understand audio prompts and visual icons
Real CPR Help for feedback on the rate and depth of compressions
A one piece, easy to place electrode with an unmatched 5 year shelf life
A rugged design that resists dust and water (IP55)

Uses cost-effective lithium camera batteries that are easily replaceable with a 5 year shelf life

7 Year Warranty
Other important features:  ZOLL Rectilinear Biphasic™ Waveform (RBW); Intelligent paediatric capability with pedi-padz®II Paediatric Electrodes; Automatic self testing that assures the unit is constantly ready.
Download Product information Brochure (.PDF)
AED Plus Workplace Accessory Catalog
Adobe Acrobat Reader required to view 
ZOLL AED Plus Accessories
AED Plus Pelican Case
Providing an excellent shock resistant carrier for your ZOLL AED Plus, the pelican case and its moulded high density foam provide total protection from the rigors of impact, vibration and shock. The large pelican case allows you to store your AED Plus and an extra set of CPR-D padz electrodes. Housing the AED Plus in the Pelican Case increases the IP rating from IP55 to IP67.
AED Plus Trainer II
The AED Plus Trainer II allows the instructor to give the student experience on what it is like during a sudden cardiac arrest (SCA) rescue giving the instructor complete control over the scenario. The AED Plus trainer includes CPR-D Training Padz and a wireless remote that can control many training units simultaneously.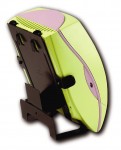 AED Plus Wall Mounting options
The AED Plus mounting brackets and wall cabinets are designed for installation of the AED Plus in visible locations. The customised wall mounting box comes in surface, recessed and flush configurations.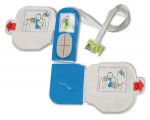 CPR-D Padz Electrode
The AED Plus and AED Pro both utilise the ZOLL Rectilinear Biphasic Waveform, delivered through the ZOLL CPR-D Padz® one-piece pad. The unique one-piece design uses a CPR landmark for hand placement and makes it easy to correctly place the CPR-D Padz quickly on the patient. The electrodes are pre-connected to the unit ensuring that the device is always ready for use and with a five year shelf life; they have the longest shelf-life of any defibrillator electrodes. Each set of CPR-D Padz comes with a ready kit attached. This package includes everything required to get the patient ready for defibrillation including: Razor to remove excessive hair at the electrode application site, small towel to make sure that the victim's skin is dry, Gloves and a barrier mask.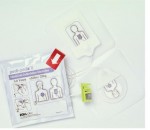 Pedi-padz II Pediatric Electrodes
The AED Plus has intelligent Paediatric Capabilities. When the victim is less than 8 years of age, or weighs less than 25kg paediatric electrodes should be used.
ZOLL AED Pro® Automated External Defibrillator (AED) with Manual Over-ride
A Tough and Durable AED with Manual Over-ride for Professional Rescuers
The ZOLL AED Pro® is a portable AED (with manual override) intended for use by trained rescuers to provide emergency defibrillation and to monitor patient ECG during treatment.  It's built light and tough to withstand the rough-and-tumble of use in any environment.
The ZOLL AED Pro has an LCD Display screen showing ECG, voice prompt messages, device advisory messages, elapsed time, shock count and chest compression graph display. Manual override is available for the professional rescuer.
The AED Pro offers the ability to view a patient's underlying ECG rhythm with See Thru CPR®.   When the AED Pro is in manual mode and CPR chest compressions are being performed, See-Thru CPR is activated. 
Also, by measuring the depth of compressions the unit's unique RealCPRHelp® function helps both BLS and ALS rescuers deliver more effective compressions by audio and visual prompts such as "PUSH HARDER" and "GOOD COMPRESSIONS".  The adaptive metronome helps the rescuer deliver the correct rate of compressions.
The built-in self-test minimizes the amount of maintenance required. 
The unit also comes with a 5 year manufacturer's warranty. 
 Download Product information Brochure (.PDF)
CPR Getting to High Quality CPR Brochure
Adobe Acrobat Reader required to view
ZOLL E Series Monitor/Defibrillator
A Rugged Portable Defibrillator for ALS with Advanced Capabilities
Out of hospital environments place specific demands on medical equipment.
That's why the ZOLL E Series® was designed especially for this use. The E Series is built tough and has been shown throughout emergency services all over the world, to be a reliable partner in the field. A range of roll cage options are also available to increase the ruggedness of your unit.
The E Series also provides state of the art tools including RealCPRHelp® and See-Thru CPR™ to assist in providing optimal resuscitation efforts.
RealCPRHelp provides feedback to the rescuer through use of a CPR compression indicator, CPR Idle time display, CPR rate metronome, voice prompts and chest compressions bar graph.
See-Thru CPR enables the rescuer to see a close approximation of the patient's underlying ECG rhythm while performing CPR, providing minimal interruptions for your patient and allowing you to provide the highest standard of care.
The E series also has a colour tri-mode screen to accommodate different light conditions, combined with a 3 line trace to allow you see multiple parameters at one time. When every second counts, the E Series Cable Management System incorporated into both soft & hard case, provide maximum efficiency in the time to deployment.
Finally the E Series allows for easy 12 lead analysis and transmission. Both 12 lead traces & Vital Signs Trending can easily be sent via email or fax to improve the speed of treatment and outcomes for your patients. 
Download Product information Brochure (.PDF)
Adobe Acrobat Reader required to view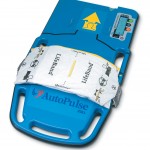 ZOLL AutoPulse®
Consistent, Uninterrupted Compressions during Cardiac Arrest.
The ZOLL AutoPulse® used to provide CPR, is an automated, portable device with an easy-to-use, load-distributing LifeBand® that squeezes the entire chest, improving blood flow to the heart and brain during resuscitation. It may offer a significant advantage over manual CPR, moving blood more consistently than human providers. The AutoPulse also minimizes time where compressions are not traditionally received, such as during transporting or while changing tiring rescuers. Additionally, it offers the benefit of freeing up clinicians to focus on other life-saving interventions.  
The AutoPulse offers:
Improved blood flow by squeezing the entire chest, not just pushing on a single spot like manual CPR and other mechanical devices
Is fast, easy and intuitive to start-up and use – it doesn't require manual adjustments because it automatically calculates the size, shape and resistance of each patient's chest
Functions as an "additional person", calms the code as allows extra set of hands to provide other life-saving treatment
Ensures clinical safety
Download Product information Brochure (.PDF)
Adobe Acrobat Reader required to view

ZOLL X Series™ Monitor/Defibrillator
Xtremely Small, Xtremely Light and Xtremely Powerful.
The new X-Series™ Monitor/Defibrillator is about half the size and half the weight of competitive full-featured monitor/defibrillators, yet much more powerful. Weighing less than 6 kilograms, the X Series is compact without compromise in capability, performance, and display size. This monitor/defibrillator combines the clinically superior therapeutic capabilities of ZOLL defibrillation, pacing, and CPR assistance with advanced monitoring parameters. The X Series has every advanced monitoring and communication capability required for critical care transport.
The large bright screen on the X Series allows for simultaneous viewing of up to four waveform traces, as well as split-screen 12-lead views. For unequalled CPR support, the X Series features ZOLL's full suite of CPR assist tools including Real CPR Help® for real-time CPR feedback and See-Thru® artefact filtering to help minimise the length of pauses. It's the first device to feature ZOLL's CPR Dashboard™, which displays CPR quality measures in real time. The X Series is the first and only critical care monitor/defibrillator that can communicate via Bluetooth, integrated WiFi, or USB cellular modem. For STEMI patients, the X Series is designed to speed door-to-balloon times with quick and accurate 12-lead acquisition, interpretation, and transmission.
Download Product information Brochure (.PDF)
Adobe Acrobat Reader required to view