Provide advanced resuscitation
HLTAID007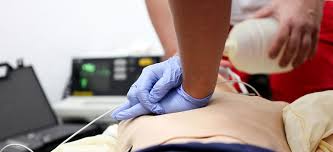 Also trained as one unit of the Occupational First Aid qualification, this standalone course will give you the skills and knowledge required to provide advanced First Aid resuscitation techniques, life support, and management of casualty(s) until the arrival of medical or other assistance, and provision of support to other providers.
How long does it run for?
1 Day (face to face).
What will I learn?
The particular topics covered by the course include:
Legal and other issues
Cultural issues
Debriefing/Welfare
Basic Life Support
CPR & AED (DRSABCD)
Anatomy and physiology
Supplementary oxygen
Oropharyngeal airway
Bag valve mask (BVM)
Maintenance of resuscitation equipment
Do I need to have completed previous training?
There are no prerequisites.
How do I keep my qualifications current?
The recognised industry standard to maintain current competency for this course to be refreshed every 12 months.
Assessment
Students will be assessed through the demonstration of practical skills, participation in role plays, analysis of case studies and a written quiz.
Outcome
On successful completion of this course, students will be issued with a nationally recognised Statement of Attainment for HLTAID007 Provide advanced resuscitation
7